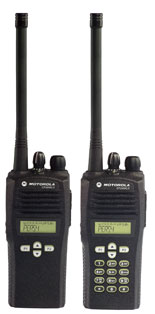 Keep you and your team working efficiently on both conventional and LTR trunking systems
The expanded features of the CP200•XLS portable two-way radio make it a perfect fit for local delivery services and manufacturing organizations. Featuring both conventional and LTR® trunking capability, the CP200•XLS enables you to efficiently organize a large workforce. With both a limited keypad and full keypad model, the CP200•XLS also features an eight-character alpha-numeric display, four programmable buttons for quick access to up to eight programmable features and X-Pand™ technology for crisp, clear audio - all in a lightweight, durable design.
Motorola is a company of firsts, with a rich heritage of innovation. We continue to invent what's next — connecting people, delivering mobility and making technology personal. Whether you need a simple yet reliable communication solution or enhanced functionality to organize multiple work groups, the CP200 series of two-way radios help keep you and your team working efficiently. Featuring a lightweight, ergonomic design, powerful audio output and operation on both conventional and LTR trunking systems, the CP200 series of portable two-way radios help keep your workforce connected. The result: increased productivity for your business.
Exceptional Durability
With superb durability, Motorola's radios are built to last. Motorola's rugged and reliable radios undergo rigorous testing in the design process. We use U.S. military standards and Accelerated Life Testing, so you can be assured Motorola radios will hold up under demanding conditions. These tests are designed to simulate very harsh environments, including:
Rain - Steady rainfall and wind for 30 minutes on every surface.
Salt Fog - 48 hours of exposure to an atomized salt solution.
Dust - 6 hours of blowing dust on all surfaces.
Vibration - Up to 9 hours of exposure to vibration that simulates the rigors a radio could undergo while being transported.
Shock -18 shocks with a minimum G force of 40 Gs each.
Motorola CP200XLS FEATURES
128 Conventional Channels
Up to 100 LTR Talkgroups
Up to 10 Sites and 100 Talkgroups in LTR
Mixed Assignment of Conventional Personalities and LTR Talkgroups
Up to 20 Repeaters per Site in LTR
Up to 4 Universal IDs per System in LTR
Up to 40 Universal IDs per Radio in LTR
Up to 8 Programmable Features
Supports up to 16 Scan Lists of up to 16 Channels Per List – Limited Keypad only
User-Editable Standard TPL/DPL Codes
User-Editable Scan List
Lights On/Off
Keypad and display backlights
Tones On/Off
Call Tone Tagging
Tag a special tone for a particular call
Quik-Call IITM Signaling Includes:
Selective Call Encode: Calls a specific group or individual
Call Alert Encode: Notifies a specific group/ individual with an alert tone and lighted LED
DTMF Signaling Includes:
Selective Call/Call Alert Encode/Decode
LTR Trunking Signaling Features:

MDC 1200 Signaling
PTT-ID Encode
PTT-ID Decode
Radio Check Decode
Selective Radio Inhibit Decode
Data-Operated Squelch (DOS)
Pre-Time
The Full Keypad model has all of the same regular features as the Limited Keypad model, plus the following:
Dialing a Phone Number
Manual Access Repeater
Send DTMF tones to repeater
User-Editable Phone List
Speed Dial for Radio Call Encode
Programmable Features:
You can choose up to 8
Menu Mode
Access to the radio menu and the ability to select a menu option
Monitor
Monitor radio traffic
Repeater/Talkaround
Toggle between using the repeater or transmitting directly to another radio
Revert Memory Channel
Instant access to the home channel/ talkgroup
Store Memory Channel
Store current channel/talkgroup to the home channel/talkgroup
Home Revert Auto Key
Keys up the radio and transmits an MDC PTT ID (LTR only)
Voice Operated Transmission (VOX)
Hands-free operation with an audio accessory
Keypad Lock/Unlock
Lock/unlock keypad to prevent unauthorized usage
Radio Call
Initiate Quik-Call II and/or DTMF Call Alert or Selective Call Encode from a call list
Scan/Nuisance Channel/Talkgroup Delete
Initiate or stop a scan and delete a nuisance channel/talkgroup while scanning
Edit Scan List
Add, delete or prioritize channels / talkgroups
Phone Mode
Place and receive telephone calls through the repeater
Escalert
Increase the volume of the alarm tones when a radio call is not answered
Squelch
Toggle squelch level between tight and normal squelch
Power Level
Change transmit power between high and low power
Lights
Switch keypad and display backlights on or off
The Full Keypad model has all of the same programmable features as the Limited Keypad model, plus the following:
Speed Dial
DTMF (Full-Keypad) Specific Features

DTMF Last Number Redial in Phone Mode
Auto DTMF Access/De-access Code
Manual Entry of DTMF Access/ De-access Code
Motorola CP200 XLS™ Models
VHF
AAH50JDF9AA5_N
CP200 XLS™ Limited Keypad VHF 136-162 MHz, 1-5W, 128 Channel
AAH50JDH9AA6_N
CP200 XLS™ Full Keypad VHF 136-162 MHz, 1-5W, 128 Channel
AAH50KDF9AA5_N
CP200 XLS™ Limited Keypad VHF 146-174 MHz, 1-5W, 128 Channel
AAH50KDH9AA6_N
CP200 XLS™ Full Keypad VHF 146-174 MHz, 1-5W, 128 Channel
UHF
AAH50QDF9AA5_N
CP200 XLS™ Limited Keypad UHF 403-440 MHz, 1-4W, 128 Channel
AAH50QDH9AA6_N
CP200 XLS™ Full Keypad UHF 403-440 MHz, 1-4W, 128 Channel
AAH50RDF9AA5_N
CP200 XLS™ Limited Keypad UHF 438-470 MHz, 1-4W, 128 Channel
AAH50RDH9AA6_N
CP200 XLS™ Full Keypad UHF 438-470 MHz, 1-4W, 128 Channel
AAH50SDF9AA5_N
CP200 XLS™ Limited Keypad UHF 465-495 MHz, 1-4W, 128 Channel
AAH50SDH9AA6_N
CP200 XLS™ Full Keypad UHF 465-495 MHz, 1-4W, 128 Channel
All Motorola CP200 XLS™ Models include:
Standard Battery (Li-ion, 2250 mAh, 7.2V Battery - NNTN4497_R)
Standard Charger (120 Volt - 90 Minute Rapid Rate Charger Kit WPLN4138_R)
Standard Antenna (VHF Heliflex - NAD6502_R / UHF Whip - NAE6483_R)
3" Belt Clip (HLN8255)
Quick Reference Guide/Safety & Warranty Booklet (68009327001)
2 Year Warranty
Motorola CP200 XLS™ Applications
Explore CP200XLS's Industry-Specific Benefits
View these market brochures to learn how the expanded features of the CP200XLS two-way radio can provide specific benefits to your business. You'll learn that enabling communication among your employees can make your business more efficient, better equipped to respond to the needs of your customers and help improve the safety and security of your business.
The CP200 XLS™ portable radio can be used for a variety of applications. Here are a few examples of some key industries:
Education
It is imperative that educators and administrators are able to communicate discreetly and that your hands are free to manage the tasks at hand. A lightweight headset helps make it comfortable and convenient to manage administration duties and contact colleagues discreetly.
Ideal for: Administrators, Principals, Teachers, Nurses, Secretaries, Custodians, Maintenance Staff, Security Staff, Crossing Guards, Coaching Staff, Special Events Staff, Playground Supervisors, Cafeteria and Hall Monitors
Hospitality
Whether coordinating staff for a conference or making a room change for a last-minute guest, communication needs are frequent, and shifts can be long. The high-capacity Li-Ion battery ensures your battery meets your demanding communication requirements.
Ideal for: General Managers, Front Desk Clerks, Cashiers, Receptionists, Concierge, Bartenders, Bellhops, Valets, Busboys, Housekeeping Staff, Custodians, Night Supervisors, Security Personnel, Groundskeepers, Pool Attendants, Restaurant Staff
Local Delivery Services
Manufacturing
In light manufacturing environments, users want to keep their ears unobstructed to hear ambient sounds and conversations. A lightweight temple transducer uses bone conduction technology to allow you to both hear the radio conversations along with the conversations nearby.
Ideal for: Foremen, Engineers, Supervisors, Secretaries, Managers, Crew, Mechanics, Laborers, Technicians, Shipping and Receiving, Assemblers, Stockmen, Maintenance and Janitorial Crews
Security Organizations
Download
Motorola CP200XLS brochure
Motorola Portable and Mobile Two-Way Radio Accessory Guide (includes CP200 XLS™)