Motorola Solutions Unveils Slim, Lightweight MOTOTRBO™ SL300 Two-Way Radio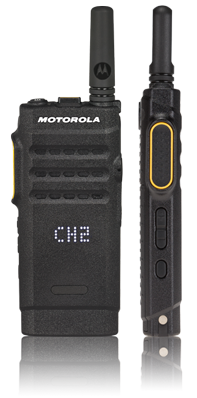 Motorola Solutions recently announced the stylishly designed MOTOTRBO SL300™ digital portable radio, a reliable push-to-talk communication device designed by the company's award-winning SL Series product team. This new solution provides superior audio quality and provides MOTOTRBO features necessary for essential day-to-day, two-way radio communications. The ergonomic design allows for one-handed radio operation, and a versatile accessory portfolio gives users the freedom to focus on the job at hand.
For example, a school teacher carries her SL300 two-way radio to coordinate with school administration and first responders in times of emergency. The slim form factor and energy-conserving Active View display allow her to comfortably and easily carry her radio at all times. Whether faced with a fire, severe weather or lost child, she knows help is one button click away.
Simple Operation
Intuitive design with innovative display supports easy radio operation.
Ultra-Slim Profile
Slim form factor and full accessories portfolio provide ultra-portability.
Rugged and Reliable
Lightweight and robust for durability. High efficiency for long battery life.
Advanced Technology
Sophisticated design gives louder audio, enhanced range, lower maintenance.
Learn more about the MOTOTRBO SL300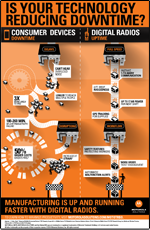 Manufacturers are Up and Running Faster with Digital Radios.
See Why Leaner Operations are Built on Digital Radios - Not Other Technologies.
Find Out What Technology Reduces Downtime.
Discover what technology is three times less likely to fail.
Unleash the Power of Your Radio with Bluetooth® Accessories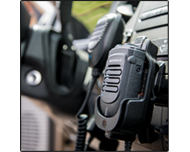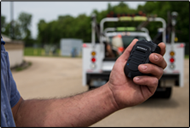 Long Range
Wireless Solutions
The Long Range Wireless solution allows you to maintain critical communications even on remote job sites. Designed for customers who depend on their high power mobile radio for system connection and must work outside of their vehicle.
The Long Range Wireless Remote Speaker Microphone (RSM) pairs instantly with touch pairing to the Bluetooth-enabled Mobile Microphone (Bluetooth Gateway). The Long Range Wireless RSM works up to 100 meters away from the mobile radio, keeping you in communication at distances you thought weren't possible. The Bluetooth Gateway Microphone is compatible with MOTOTRBO XPR 4000 and MOTOTRBO XPR 5000 Mobile Radios. This plug-and-play solution takes only seconds to set up. Kit includes the Wireless Remote Speaker Microphone with battery (RLN6544), the Mobile Microphone with Bluetooth Gateway (PMMN4097), and the Vehicular Charger (PMLN6716).
Utility workers who must leave their trucks can stay connected to their mobile radio with the Long Range Wireless Remote Speaker Microphone. Given the ability to communicate immediately with dispatch, without having to return to the truck, remote workers can get their jobs done safely and more efficiently.
Learn more about the Long Range Wireless Remote Speaker Microphone
Radios Vs Cell Phones
Where Cell Phones Fall Short, Digital Radios Keep You Going.
Cell phones are not suitable for your business-critical work environment. They are unreliable, higher in cost, and do not give you the safety features you need to protect your workforce.
Digital radios represent the best investment
MOTOTRBO™ digital radios offer you a wide portfolio of radio solutions to meet your needs.