Introducing the DTR550™ andDTR650™ -Digital On-Site Two-Way Radios For Small Business

The better a team communicates, the more efficiently it operates. Motorola DTR Series digital on-site two-way radios are the power tools that enable that communication. Unlike alternative technologies, there are no monthly fees. No service towers. No per-minute charges. Moreover, these durable on-site two-way radios help businesses keep operations on schedule, maximize job shift productivity, enhance security and increase overall customer satisfaction.
Why Motorola Digital
On-Site Two-Way Radios
Meet Your Needs Best
What makes the DTR Series perfect for your on-site operation? The digital technology of the DTR550™ and DTR650™ enables each unit to have its own unique 11-digit identification, bringing you new calling options:
DIGITAL ONE-TO-ONE CALLING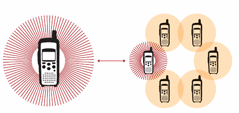 Allows you to call and talk privately with a specific user's radio. A private-call recipient can receive an alert, and the recipient's unit displays the caller's
ID.DIGITAL ONE-TO-MANY CALLING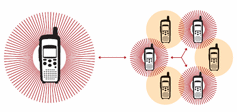 Public group call - all other DTR Series radios on the same group ID and channel hear communications, similar to analog radios.
Private group call - enables you to program DTR Series radios to communicate with specific sets of group members.

Two DTR Models to Choose from

DTR550
for your Employees

DTR650 with Enhanced Capabilities for Management
In addition to the unique digital calling features, you get many other benefits, including:
Coverage extended by 20%.*• Up to 45% longer operation on a single charge.*• Digital audio quality—which stays loud and clear everywhere you have coverage.
Call forwarding to other radio IDs.
Scroll list of frequently used group, private IDs, and a recent-calls list.
900 MHz ISM license-free band.
Frequency Hopping Spread Spectrum (FHSS) -For enhanced security, with 50 non-overlapping groups.
Short message service (SMS) text messaging - with 10 preset messages (five on DTR550) and support for keyed-in custom messages to meet more specific needs.

All DTR550/DTR650 portable models include:
Standard Battery:
DTR550 - Li-ion, 1200 mAh Battery, 3.6V
DTR650 - Li-ion, 1500 mAh Battery, 3.6V

Standard Charger
DTR550 - 3 Hour Charger (NNTN4841)
DTR650 - 1 Hour Rapid Charger (53969)

Drop-In Charging Tray (53962)
Swivel Belt Holster (53961)
CD-Rom User Guide
Quick Reference Card
One Year Warranty
Motorola DTR Series Features
900 MHz ISM Frequency-Hopping Digital Spread Spectrum
12 Alert Tones plus VibraCall™
Battery Meter
License Free Communication
Backlit Display
Private Calling: One-to-One Communication
Public Group Calling: One-to-Many, Selected from List
of 100 Group ID's
Private Group Calling: One-to-Many, Selected from Contacts
Remote Disable (Initiated by DTR650 Only)
Remote Monitoring (Initiated by DTR650 Only)
Remote Time / Date Update (Initiated by DTR650 Only)
SMS (Short Messaging Service), 5-10 Quicknotes
Contact List: Capacity 150 Shared Private / Public Group / Private Group - requires NTN2074 Mini Keyboard to program contact name list.
Motorola DTR550/DTR650 Models
AAH73WCF9NA3_N DTR550 Digital 900 MHz 1W
AAH73WCF9NA5_N DTR650 Digital 900 MHz 1W
DTR Series Accessories
Click here to see all of the DTR Series Accessories
DTR Series Downloads
Motorola DTR Series Tri Fold Brochure
Motorola DTR550 Spec Sheet
Motorola DTR650 Spec Sheet
* Coverage will vary based on terrain and conditions. All comparison claims made against Motorola CP100/XU2600 analog radio models. High capacity battery used.