Low Band, High Power and Maximum Value
Reliable Performance in Tough Conditions
Clear Communication in Noisy Environments
To keep things running efficiently, safely, and productively, you need to stay connected.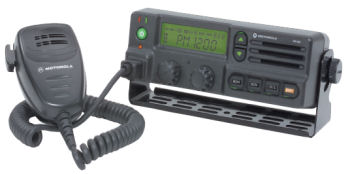 Keeping communities safe and keeping vital services flowing is a job where there's no room for error. But today's budgets don't always have room for unlimited spending. So Motorola designed the PM1200™ Professional Series two-way mobile radio to provide government and commercial institutions with maximum value.
The high power, low band PM1200 offers local public safety, public works, utilities and transportation professionals a full range of easy-to-use features, with all the quality and reliability users expect from Motorola. Count on this dependable performer to provide clear, cost effective communication that meets the needs of hard-working professionals.
Motorola PM1200 Mobile Radio Features
250 Channels
50/120 Watts Programmable
20/30 kHz Switchable Channel Spacing (LowBand)
PL/DPL Operation
Multicolored LED Indicators
Includes Transmit and Channel Busy LED
Large Channel and Volume Knobs, On/Off Push Button
Backlit 8-Character Alphanumeric Display
User friendly icons allow you to easily view status. Display for viewing of channel names and Caller ID
X-Pand™ Technology
QC II Decode (via option board)
Emergency Microphone
Default Status Check
Blinks orange when volume and channel settings are different than the default settings
Group Select Keys
Changes operating group
4 Programmable Buttons
Easy access to favorite features. Programmable buttons allow you to assign up to 8 of 21 selectable features
Internal Speaker
Allows for clear, crisp communication in loud environments
Motorola PM1200 Programmable Features
Emergency
Repeater Talkaround
Channel Scan
Dual Watch
Monitor
Home Channel
Additional PM1200 Features allow you to send and receive information in a variety of ways with Quik-Call II™ and DTMF Signaling:
Quick-Call IITM
Selective Call (Decode)
Call Alert (Decode)
DTMF Signaling
Push-to-Talk ID (Encode)
Applications
Local Public Safety
Public Works
Utilities
Transportation
Models
The Motorola PM1200 is available in the following models.
AAM32BMD9PW5AN PM1200 250 Channels, LowBand (29.7-37 MHz), 50-120W Mobile Radio
AAM32CMD9PW5AN PM1200 250 Channels, LowBand (37-50 MHz), 50-120W Mobile Radio
All PM1200 models include:
Standard Compact Microphone (AARMN4025)
Transceiver Mounting Trunion (HKLN4342)
Remote Control Head (HKLN4331)
Control Head Mounting Trunnion (HKLN4334)
Standard Power Cable, 20 ft (HKLN4019)
Standard Remote Mount Cable, 20 ft (HKLN4018)
Spare Fuse Kit (HKLN4339)
Keycaps and Button Covers
Operating Instruction Manual
Two Year Warranty
Programmable Button Labels
2-Year Standard Warranty
Downloads