Motorola MTR 3000 Base Station / Repeater
Extend Coverage And Capacity Easily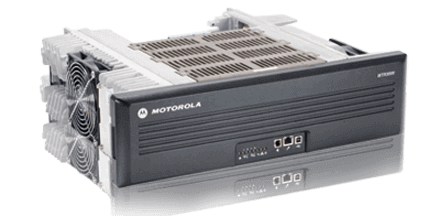 The MTR3000 is a robust, high-powered base station / repeater that offers reliability, future expandability, and the ease of migration from analog to digital technology. It integrates voice and data seamlessly, offers enhanced features that are easy to use and delivers increased capacity, while the MTR3000 satellite receiver model helps enhance analog coverage. So no matter your needs, the MTR3000 provides a flexible communication solution from the field to the factory floor.
The MTR3000 is the ideal high power base station/repeater solution for MOTOTRBO™ digital two-way radio systems. Because MOTOTRBO uses TDMA digital technology, it delivers integrated voice and data, twice the calling capacity, plus clearer voice communications. With its integrated 100W power amplifier and AC/DC power supply, the MTR3000 has minimal cabling, rack space, expense and overall complexity. The MTR3000 operates in digital mode in MOTOTRBO Conventional, IP Site Connect, Capacity Plus, Linked Capacity Plus and Connect Plus systems, delivering increased capacity, spectral efficiency, integrated data applications, and enhanced voice communications. In addition, the MTR3000 can also operate in analog mode for conventional and LTR®/PassPort® Trunking systems, providing a flexible high power base station/repeater.
Motorola MTR3000 Features
Operates in analog or MOTOTRBO digital mode with LED indicating mode of operation.
Reliable 100W continuous duty cycle operation.
12.5 or 25 kHz programmable channel spacing.
Analog and digital conventions are all standard in one base station without the cost of additional software or hardware
RoHS (Restriction of Hazardous Substances) compliant.
Power supply functions over a wide range of voltages.
Integrated 100W Power Amplifier and AC/DC Power Supply afford minimized cabling, rack space, expense and overall complexity.
Supports UHF, VHF, and 800 / 900 MHz frequency bands.
Additional Features when the MTR3000 is programmed in MOTOTRBO mode:
Two simultaneous voice paths in digital 12.5 kHz TDMA.
6.25e compliance.
Division of an existing channel into two talk paths, delivering twice the capacity through a single repeater.
MOTOTRBO Connect Plus multi-site trunking to extend the coverage and expand the capacity of your system.
MOTOTRBO Capacity Plus single-site trunking to expand the capacity of your system.
MOTOTRBO IP Site Connect to extend the coverage of your system.
Transmit interrupt capability to help prioritize critical communication exactly when and where it's needed.
Dynamic mixed mode capability which allows for automatic switching between analog and digital mode.
IP Repeater Programming enables the use of Internet Protocol (IP) at a central location to complete programming changes and upgrades on remotely located repeaters.
Digital Telephone Interconnect enables communication between radios and landline or mobile phones.
Systems Supported
Motorola MTR 3000 Models
T3000/X330MT 136-174 MHz, 100 Watts
T3000/X340MT 403-470 MHz, 100 Watts
T3000/X540MT 470-524 MHz, 100 Watts
T3000/X450MT 806-870 MHz, 100 Watts
T3000/X460MT 896-941 MHz, 100 Watts
All Motorola MTR 3000 models include:
120V AC Power Cord
Two-Year Warranty
Motorola MTR 3000 Accessories
Simple, clear voice communication is a "must have" for your operation. We understand - that's why analog or digital, our MOTOTRBO portfolio is renowned for clearly better connections and workforce collaborations.
We realize that to help you excel in your job, you need accessories that match the performance of your MOTOTRBO radio - that truly fit your work environment. When you use our accessories with your mobile radio, you are simply more efficient.
That's why it's important to use Motorola Original® accessories with MOTOTRBO radios. They're the only ones designed, built and tested with your radio to optimize its performance.
Only Motorola accessories unleash the full power of MOTOTRBO - the most advanced digital radio platform in the industry. So as you deliver packages, dispatch trucks and coordinate shipments, you can work more easily and efficiently with our comfortable, convenient and practical accessories.
Combine our best-in-class radios with Motorola Original® accessories to achieve even greater efficiency and cost savings. Together, you'll rethink what's an accessory - and what's a necessity.
Motorola MTR3000 Downloads
Application Briefs
Brochures
Case Studies
White Papers

Click here to request more information and get a customized quote.
To speak to a Finger Lakes Communications consultant by phone, call 800.724.0146
Consultants are available
Mon-Fri 8:00 AM - 5:00 PM EST