Motorola XPR 4550 Mobile Two-Way Radio
Voice | Systems | Data | Basic Apps
You're Empowered With Digital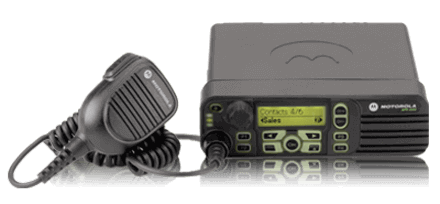 Combining the best of two-way radio with digital technology, the MOTOTRBO XPR 4550 digital mobile radio delivers increased capacity, exceptional voice quality and integrated data communication via the industry's largest third-party application developer program. MOTOTRBO is built to the globally recognized ETSI DMR Tier 2 standard.
Available in UHF and VHF frequency bands, the XPR 4550 features an integrated GPS module, alpha-numeric display, up to 1,000 channel capability, four programmable buttons, large volume knob for ease of use and a powerful, front projecting speaker.
Motorola XPR 4550 Features
Integrated GPS: Track vehicles and assets without additional equipment to purchase, install or maintain.
Text Messaging: Use text messaging when discretion is required or routine communication needs to be delivered without interrupting workers or guests.
Customized Applications: Features the industry's largest third-party application developer program for customized applications such as work order tickets, system management, email gateways, man-down, location tracking, telephony, dispatch and much more.
Digital Telephone Interconnect: Communicate between radios and landline or mobile phones.
Transmit Interrupt: Enables intervention during conversations to deliver critical communication exactly when and where it's needed.
Basic or Enhanced Privacy: Built-in scrambling for increased security.
Emergency Signaling: Sends a help signal to a predefined person or group.
Versatile, Loud Audio: Powerful, front-projecting speaker and support of both USB and IMPRES audio accessories.
Bright Display: Flexible, menu-driven interface with user-friendly icons or two lines of text for ease of reading text messages and navigating through menus.
Compact, Ergonomic Design: Large, easy-to-use navigation buttons with a compact and ergonomically friendly microphone.
Systems Supported
Motorola XPR 4550 Models
AAM27JNH9LA1AN 136-174 MHz, 25 Watts, 1000 Channels
AAM27JQH9LA1AN 136-174 MHz, 45 Watts, 1000 Channels
AAM27QPH9LA1AN 403-470 MHz, 25-40 Watts, 1000 Channels
AAM27QNH9LA1AN 403-470 MHz, 25 Watts, 1000 Channels
AAM27TRH9LA1AN 450-512 MHz, 1-40 Watts, 1000 Channels
All Motorola XPR 4550 models include:
Compact Microphone
Low Profile Bracket
10 ft Power Cable
Replaceable Button Package
Two-Year Warranty
Motorola XPR 4550 Accessories
Simple, clear voice communication is a "must have" for your operation. We understand - that's why analog or digital, our MOTOTRBO™ portfolio is renowned for clearly better connections and workforce collaborations.
We realize that to help you excel in your job, you need accessories that match the performance of your MOTOTRBO radio - that truly fit your work environment. When you use our accessories with your mobile radio, you are simply more efficient.
That's why it's important to use Motorola Original® accessories with MOTOTRBO radios. They're the only ones designed, built and tested with your radio to optimize its performance.
Only Motorola accessories unleash the full power of MOTOTRBO - the most advanced digital radio platform in the industry. So as you deliver packages, dispatch trucks and coordinate shipments, you can work more easily and efficiently with our comfortable, convenient and practical accessories.
Combine our best-in-class radios with Motorola Original® accessories to achieve even greater efficiency and cost savings. Together, you'll rethink what's an accessory - and what's a necessity.
Motorola XPR 4550 Downloads
Application Briefs
Brochures
Case Studies
White Papers

Click here to request more information and get a customized quote.
To speak to a Finger Lakes Communications consultant by phone, call 800.724.0146
Consultants are available
Mon-Fri 8:00 AM - 5:00 PM EST