Enhanced Motorola XPR 5550e Available
Motorola Solutions has released a new enhanced version of the XPR 5550. The new Motorola XPR 5550e offers additional capabilities. These dramatic enhancements to the MOTOTRBO portfolio deliver the audio quality, coverage, battery life and built-in intelligence that allows users to work confidently and safely.
Integrated Data: Your Voice Just Got A Lot Stronger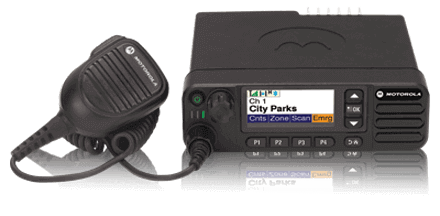 From the delivery driver crisscrossing the city to the sanitation crew clearing streets, your employees work smarter and safer with the MOTOTRBO™ XPR 5550 mobile two-way radio.
This fully-featured mobile transforms your enterprise, delivering unrivaled voice and data communications with integrated Bluetooth audio and data, integrated GPS, text messaging and a full 4-line color display with day/night mode to make reading work order tickets and text messages easier. You also get best-in-class audio that includes Intelligent Audio and a customizable voice announcement feature.
Motorola XPR 5550 Features
Best-in-class audio: Loud front-facing speaker and Intelligent Audio feature automatically adjusts the radio volume according to the environment's noise level.
Large, full-color display: Enhanced 4-line display features a flexible menu-driven interface. Icons and large easy-to-use navigation buttons ease message reading and menu navigation.
Day/night display mode: Day mode displays improved resolution for easier viewing even in broad daylight, while night mode makes the screen easier to read in dark environments.
Flexible configurations and easy use: Available in UHF and VHF frequency bands with 1000 channel capacity, large, easy to access volume knob and four programmable buttons with option to use one as an emergency button.
Integrated GPS: Locate mobile work teams using integrated GPS.
Bluetooth data: Share real-time information by connecting radios to Bluetooth-enabled data devices.
Productivity-enhancing data applications: Features the industry's largest application developer program to enable a wide variety of customized applications including: location tracking, work order ticket management, Bluetooth data, email gateways, dispatch, telephony and man-down.
Text messaging: Send update messages to team members when radio communications need to be delivered without interrupting workers or guests.
Embedded Bluetooth audio: Enables connectivity with wireless accessories including Motorola's unique Operations Critical Wireless earpieces designed for rugged and reliable communications.
Emergency button: Orange P4 button can be optionally programmed to send an alert to a supervisor or dispatcher during an emergency situation.
Transmit interrupt: Enables a user to interrupt another radio conversation to deliver critical communication exactly when and where it's needed.
Basic or enhanced privacy: Built-in scrambling for increased security.
Systems Supported
Motorola XPR 5550 Models
AAM28JNN9KA1AN 136-174 MHz, 1-25Watts, 1000 Channels
AAM28JQN9KA1AN 136-174 MHz, 25-45 Watts, 1000 Channels
AAM28QNN9KA1AN 403-470 MHz, 1-25Watts, 1000 Channels
AAM28QPN9KA1AN 403-470 MHz, 25-45 Watts, 1000 Channels
AAM28TRN9KA1AN 450-512 MHz, 1-40 Watts, 1000 Channels
All Motorola XPR 5550 models include:
Compact Microphone
Low Profile Bracket
10 ft Power Cable
Radio Operation Quick Reference Cards and Safety Manual with Quick Reference Guides
Two-Year Warranty
Motorola XPR 5550 Accessories
You'll Rethink What's an Accessory – and What's a Necessity
Motorola radios are already best in class, but to help you work at your best, you need enhancements targeted to your specific workplace. Motorola has developed a line of accessories with unique features designed to optimize the performance of your radio in your work environment, unleashing the full power of the industry's most advanced digital radio platform.
As you walk from the production line, across hotel grounds, or to the store stockroom, you can work more easily and efficiently wearing a comfortable, convenient accessory. Combine Motorola's best-in-class radios with accessories to achieve even greater productivity and cost-savings. Together, you'll rethink what's an accessory – and what's a necessity.
That's why it's important to use Motorola tested and certified accessories with your Motorola radios. They're the only ones designed, built and tested with your radio to optimize its performance.
View the Motorola Original Accessories for the Motorola XPR 5000 Series
Motorola XPR 5000 Series Featured Accessory

New Handheld Control Head for the XPR 5000 Series
This handheld control head for the XPR 5000 Series radios allows for total installation flexibility, in-vehicle mobility and total control of your mobile radio. The radio unit can be installed wherever it is most convenient: behind the seat, under the dash or in the trunk. The control head can then be mounted close to the user on a standard hang-up clip. The standard coiled cord is 5.9 ft. long and will stretch to 9.8 ft. (An optional extension cable adds 16.4 ft.) The control head allows users to move around within the vehicle and still stay connected. Ambulance attendants, bus drivers and delivery drivers can take the control head into the rear of the vehicle rather than being limited to the driver's seat. With a full keypad, color screen, and channel and volume controls, the control head offers the full feature-set of a portable radio. Contact lists, text messages, radio settings, work order tickets and notifications are all accessible from wherever you are in the vehicle.
Motorola XPR 5550 Downloads
Application Briefs
Brochures
Case Studies
White Papers